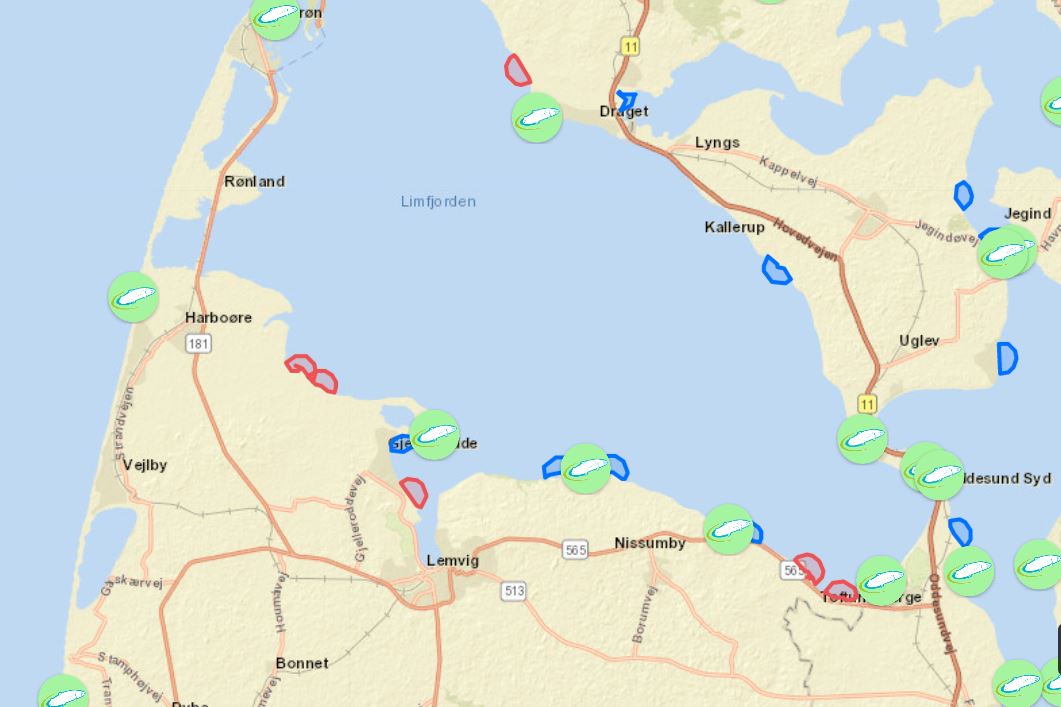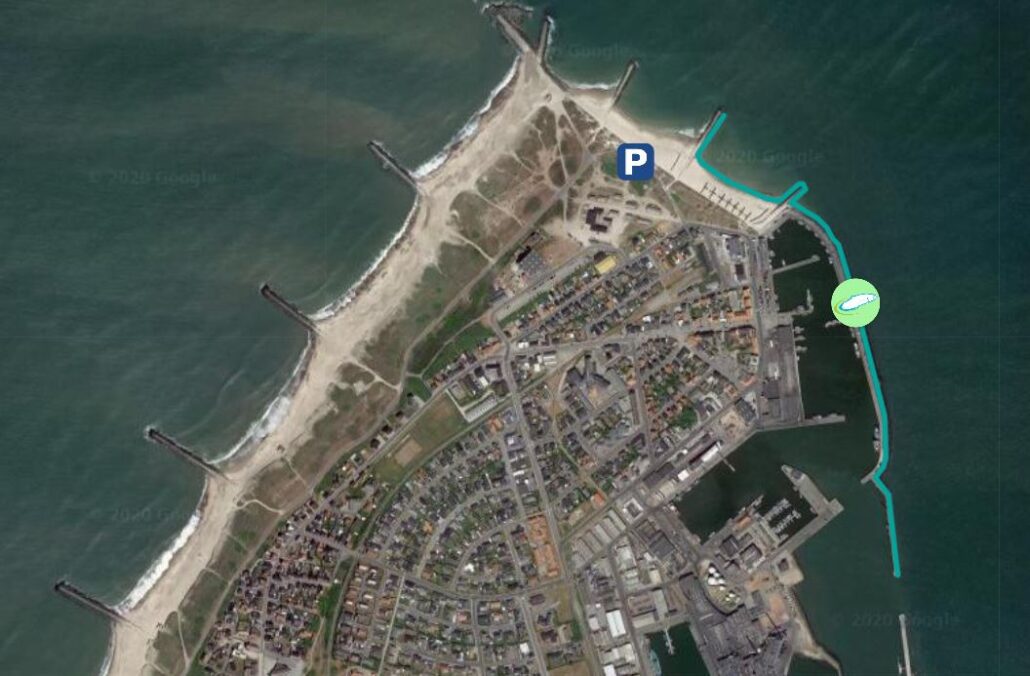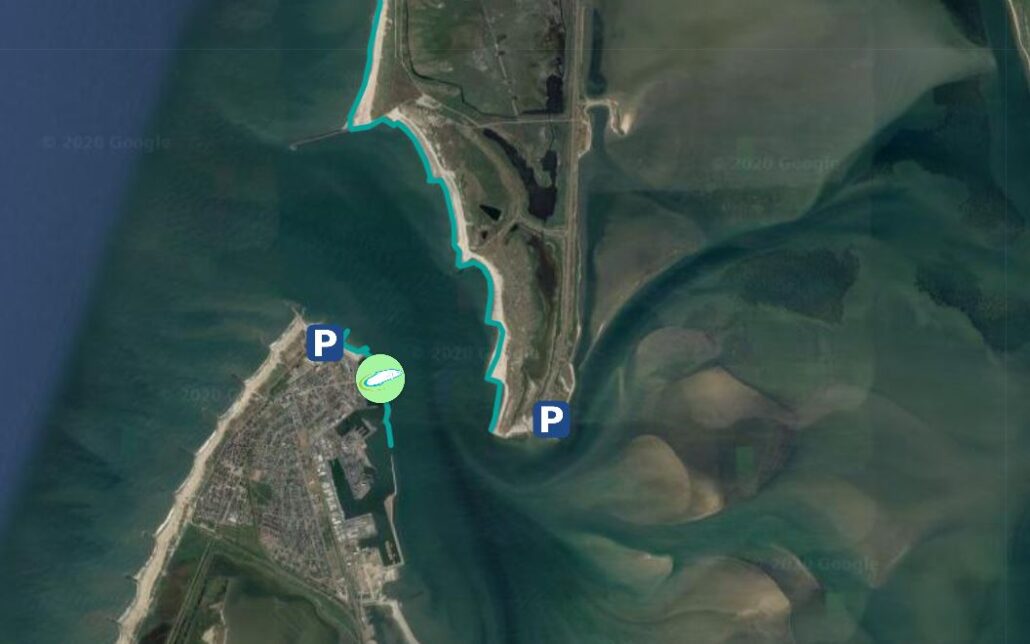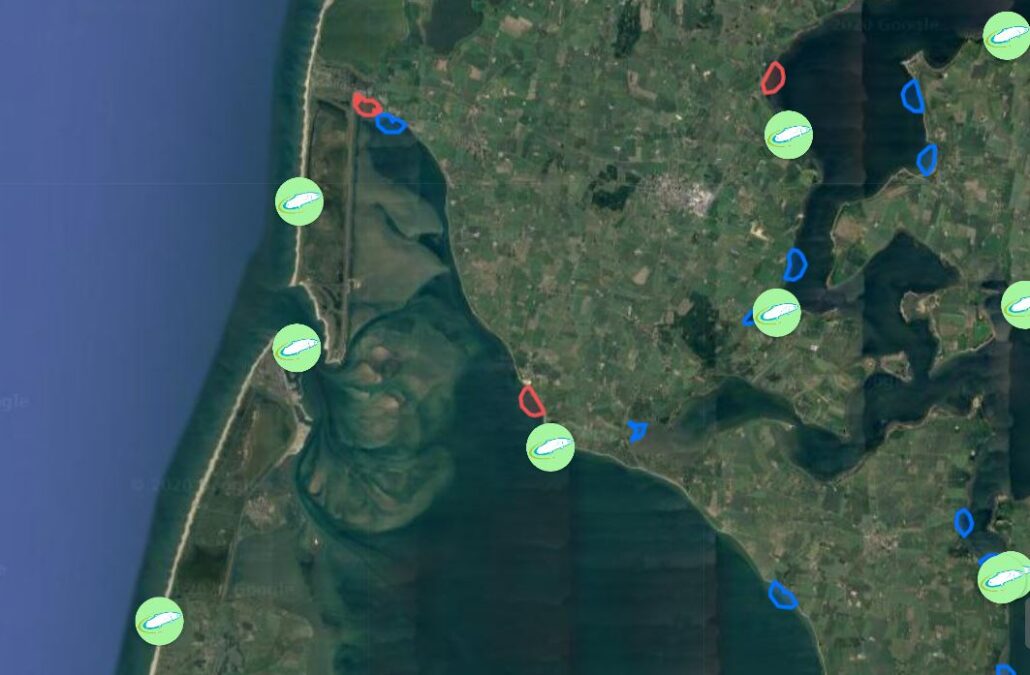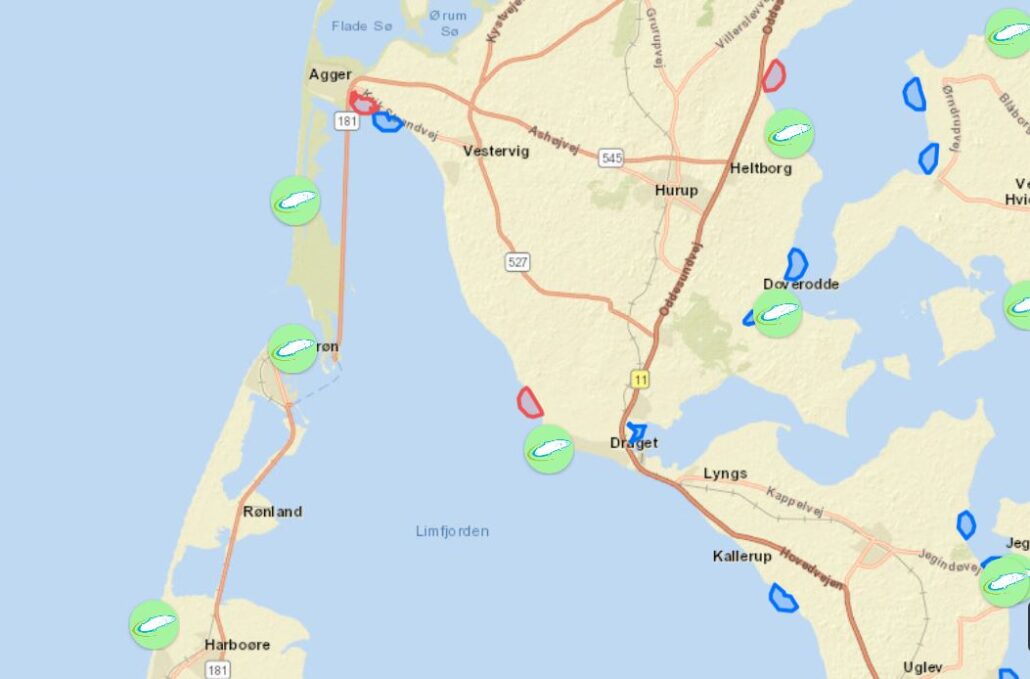 On the map, known fishing grounds in the Limfjord and on the west coast are indicated with a line and an associated number. The places on the map have been selected based on the experiences of local anglers with fishing and the availability of the places.
The site's unique location between sea and fjord makes Thyborøn Camping Hotel & Hytteby a natural choice for active anglers. Enjoy the fishing trip with friends or give the family an experience with a trip on the fjord aboard an old fishing cutter. A trip on the fjord can have different lengths.
Grab an overnight stay in our hotel rooms or in one of our cabins.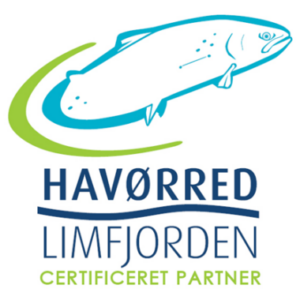 Fish on the hook - tips and tricks
You can find more information about fishing, descriptions of the individual fishing grounds, fishing tips and much more at www.havorredlimfjorden.dk or in the guide "Lystfiskeri i Limfjorden", which is sold by us.
Hvis du er mellem 18 og 65 år, skal du have fisketegn for at dyrke fiskeri med stang og andre redskaber i Danmark. Fisketegnet kan købes online på www.fisketegn.dk eller vi kan hjælpe dig med det, når du kommer.
Angling - by the Limfjord
and the North Sea
Thyborøn Camping, Hotel & Hytteby is located right at the Limfjord's opening to the North Sea, and that makes us the natural choice for anglers. The opportunities for angling are unique and very versatile.
The western part of the Limfjord is an extensive system of small fjords, expansions, sound and coves. The area invites you to angling for the fjord's coveted sea trout or other species such as hornfish and herring, and the coast and the surrounding nature form a unique setting for fishing in the Limfjord.
On the west coast, there is the possibility of fishing in rough nature and some of the best pier and hip fishing you can experience in Denmark. The west coast is also the starting point for sea fishing on the Yellow Reef and several tour boats are ready to take you out.
As a certified accommodation for anglers, we can guide you about the local fishing and we have, among other things, facilities such as a cleaning area and the possibility of freezing individual fish.
Vi arrangerer fisketure med skib, i samarbejde med Ivans lystfiskeri M/S NEMO og Per Jensen M/S Emma Line.
Turene kan tilrettelægges efter netop dine ønsker.
Der er fangstgaranti!
Der kan bookes fisketure fra 4 timer til 5 dages ture i Nordsøen og sejlture efter jeres ønske i Limfjorden eller Nordsøen.
Bookingen af fisketure og sejlture direkte ved skipperne. Lystfiskerforeninger og andre grupper kan indhente yderligere oplysninger om muligheder og priser hos:
Lystfisketure med M/S Bodil og Muddi
Kontakt:
Per Jensen
T: (+45) 97 83 27 66
www.emma-line.dk
Lystfiskerture med M/S Nemo
Kontakt:
Ivans lystfiskeri
T: (+45) 53 37 22 22
www.ivanslystfiskeri.dk
Fri entre´ Wærket's faciliteter
Glæd jer – som overnattende gæst på campingpladsen og i hyttebyen har i fri entré til Wærket's (Thyborøn Hallens) nye flotte faciliteter.